VARIOGATE 30HI for dooropening
ADJUSTED VARIOGATES 30HI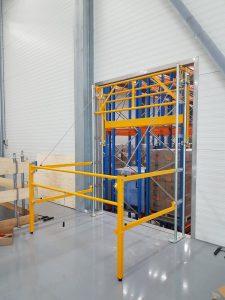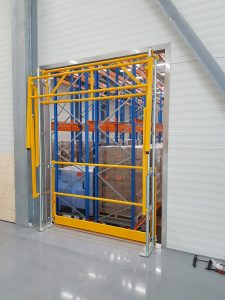 Recently Haagh Protection delivered several VARIOGATE 30HI systems. This for use in a dooropening in a warehouse in Belgium. These made- to-size apparatus were adjusted to our customers demands.
The new type of guillotine-device VARIOGATE® 30HI with a retractable backfence provides the optimal solution for set-up conditions at a pallet location with a highly restrickted or limited space at the back of the fencing. This problem occurs when there is insufficient space for a normal, pivoting safety pallet gate or when a lateral displacement of the load occurs.
Normally suitable for loads of 1.600 mm high and 1.200 mm deep.
With the recent improvements we made a better stability and used stronger materials for better performance. We can also provide tailor-made solutions with this type of equipment. In this case it concerns  a version of the Vario 30HI with a retractable backfence. In this way we can exploite extra space at the lifting point. Based on the concept of the guillotine, Haagh Protection also realizes solutions in areas with limited height and depth. Customization is perfectly possible!