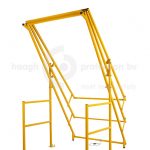 VARIOGATE® 26 Safety Cantilever gate
VARIOGATE® safety palletgates act as a lock that either pivots over or moves around goods transported. This protects people in the vicinity of safety gates on different floors from being injured. The safety gate forms a barrier between the staff members on one floor, and the load on a forklift truck or lifting mechanism on a lower floor.
The safety gate also prevents goods from falling down and therefore helps to prevent passers-by from getting injured and goods on lower floors from being damaged. Using a safety gate creates ideal safety conditions for pallet lifting points on entresols and mezzanine floors. A safety gate system delivered by Haagh Protection ensures that lifting points are never unintentionally left open again!
The available space, dimensions of the loads and method of transportation are of course unique for every location. This is why various standard and custom solutions are available for virtually every situation.  The VARIOGATE 26 is suitable for a maximum load / pallet height of 2.600mm and a maximum load / pallet depth of 1.500 mm.
Installation space dimensions:
Height: 2.900 mm
Width: 1.600, 2.000, 2.400 or 3.000 mm
Depth: 1.785 mm
Turning Radius:2.470 mm