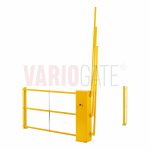 Haagh Protection has marketed the Variogate-180 for several years.
A Variogate is used to secure access points in higher levels. The Variogate-180 is a safety pallet gate where two sets of barriers are linked together. This is done in a way that moving one set of barriers automatically causes the other set to move in the opposite direction. This creates a safe zone through which goods can be transported. The risk of falling down is reduced to zero in that way.
A disadvantage of such a device is that a larger width of the device also requires a larger available height! After all, the greater width also rotates upwards during movement.
By means of a recent innovative solution, we now offer devices of which the barrier automatically retracts partially during the upward movement. This requires less space in height. During the reverse movement, the arm fully extends so that the maximum width is utilised.
Another disadvantage that arises with large widths is the force required for operation. This is also an undesirable consequence of ever-increasing dimensions.
However, Haagh Protection has now made an important improvement in this respect: by integrating gas springs, the operation of the gate has been improved to such an extent that it is now lighter and technically 100 % sound.
It is also possible to deliver custom made solutions in difficult situations, for example when doors are turning inwards, like in the pictures:
For more information please contact Haagh Protection: tel. +31 (0)-161-226559 or info@haagh-protection.com.
More information can also be found at: www.variogate.com and www.safetypalletgate.com.