To protect employees and products there are systems available which help to secure the vicinity. Your colleagues working, and products placed on a mezzanine floor are vulnerable to falling down. The VARIOGATE systems allow you to easily secure the premises, so pallets and people cannot fall down.
The VARIOGATE safety-pallet-gate system at high altitudes makes the difference in safety!
How does the system work?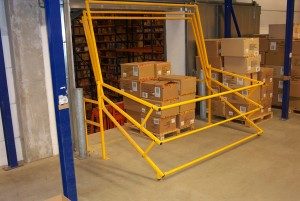 It is a simple system that can be operated by everyone, so no additional training costs are involved. The cantilever gate acts as a kind of lock. The forklift truck places the pallets on the mezzanine floor and then someone tilts the gate. In this way pallets cannot simply be pushed off the floor. The gate is placed at spots where the fences or chains have been removed. In this way the VARIOGATE  secures the area, which still is 100 % usable as a loading place. The moveable part of the safety gate can easily be moved up and over the pallets and goods.
Which kind of pallet gates are available?
There are different sizes and models of VARIOGATES available. In this way there will always be a pallet gate suitable for your working environment to secure the lifting points. If your situation differs too much, we can offer a customized solutions. We are also able to schedule a non-committal appointment at your location.
Looking for a safety pallet gate that meets your requirements? Please go to our selection guide.